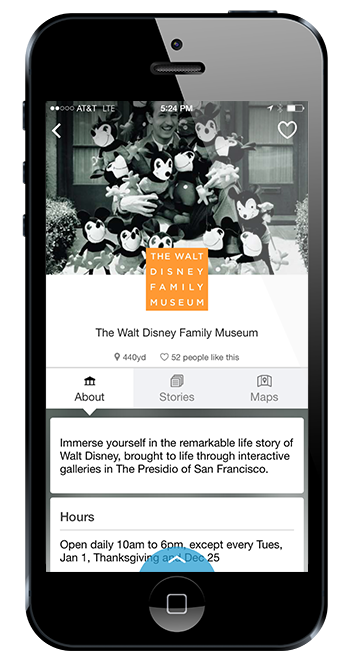 The Walt Disney Family Museum uses STQRY, an interactive storytelling application, as a way to enhance visitor experience of our main galleries and special exhibitions through augmented audio, video, and photos. Through STQRY, you can hear more from guest curators, read stories behind objects on display, and take a sneak peek at some of the work that goes into preserving and restoring objects in the museum's collection. Additionally, we offer translated audio guides for our many international visitors, offered in French, German, Japanese, Mandarin, and Spanish. Translated audio guides are available only on devices provided by the museum—see ticket desk for checkout and pricing.
To access this content, download the STQRY app on your personal device. Either connect to the museum's Wi-Fi to receive a direct download link or search for "STQRY" in your device's app store, or click here on your mobile device.
Indoor Mapping
This summer, visitors will be able to browse an interactive map of our main galleries and access contextually relevant content on their personal devices thanks to iBeacon Bluetooth technology. Featured content includes never-before-displayed objects celebrating Disneyland's 60th anniversary and must-see selections from our permanent collection.
Translated Core Gallery Tours
Explore Walt Disney's creative life and innovative legacy through a content-rich audio guide, available in the following languages: French, German, Japanese, Mandarin, and Spanish. Translated tours are available on devices provided by the museum—please see ticket desk for more details.