Ron Miller has served on the Board of Directors at The Walt Disney Family Museum since we opened in 2009 and has served as President since November of 2013. He is the son-in-law of Walt Disney and worked at The Walt Disney Company for 30 years, serving as President and CEO from 1978 to 1984.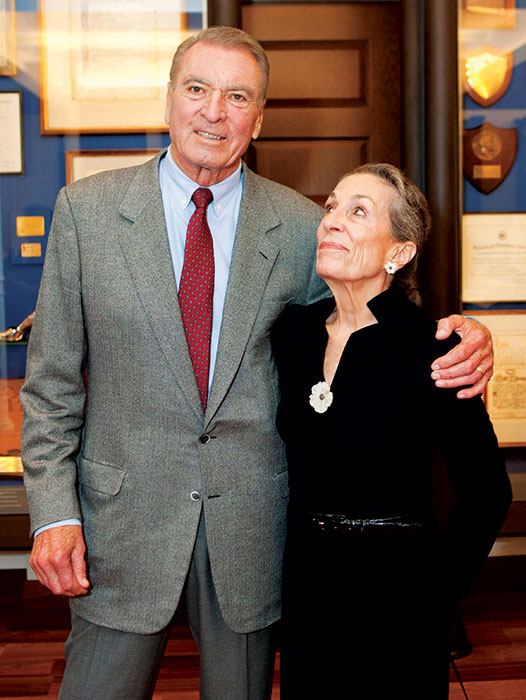 When Ron was 21 and a member of the football team at the University of Southern California, he was introduced to then-20-year-old Diane Disney on a blind date. They were married in Santa Barbara on May 9, 1954. Ron then served in the Army and played professional football for the Los Angeles Rams before his father-in-law recruited him to work at The Walt Disney Studios. There he ascended from varied motion picture and television production roles to President and CEO of what is now The Walt Disney Company.
After Walt's death, Ron pushed the Company to expand and explore, creating Walt Disney Home Video, the Touchstone Pictures label, and The Disney Channel. He supported and encouraged ongoing innovation, including early computer animation, with experimental work and films such as Tron (1982) and Tim Burton's early stop-motion animation shorts Vincent (1982) and Frankenweenie (1984). In 1983 he also approved the funding for Disney's first foray into New York theatre, backing the first workshop for a show that eventually would open on Broadway.
Ron and Diane officially established Silverado Vineyards in 1981, four years after the first acreage was purchased near the small town of Yountville, California. Throughout the 30-plus years they have operated the vineyard, the couple has championed environmental efforts in winemaking, helping restore local creek beds and riverbanks and adopting solar power and hybrid engine technology.
Ron left The Walt Disney Company and the entertainment industry in 1984. With seven grown children, and grandchildren on the way, he and Diane resettled in the Napa Valley, which has become their permanent home.
Discouraged that Walt Disney's name had become a corporate "brand," and that the identity of the man himself had become obscured, Ron helped Diane take on an active advocacy to document the life and accomplishments of her father. In 2001 the Walt Disney Family Foundation released The Man Behind the Myth, a documentary film about Walt's life featuring interviews with his colleagues, peers, and family—including Ron, who has only spoken publicly about his Disney career in support of Diane's projects.
After Diane's passing in 2013, Ron became President of the Board of Directors of The Walt Disney Family Museum, leading the institution into a new era as an independent nonprofit organization and underscoring his commitment to carrying on its ideals and mission.